Feature article October 25, 2020:
DIAGNOS Inc. Poised for Parabolic Move, First of New Cardiovascular AI Applications Coming to Market
Applying artificial intelligence for early detection tests of vascular change in the retina, targeting both the diabetes (vision loss prevention) and now the cardiovascular disease market; new hypertension application coming to market in Q3, and Stroke Preventer application set for 1,000 patient validation.
DIAGNOS Inc.

(TSX-V: ADK) (OTCQB: DGNOF) (Frankfurt: 4D4)
Share data, Capitalization, & Corporate info
Shares Outstanding: ~61.366 million
Recently Traded: ~CDN$0.50/share (TSX-V: ADK)
52 Week High/Low: $0.67 / 0.11
Current Market Capitalization: ~$31 million CDN
Corporate Website: www.DIAGNOS.ca
"...look for shares of ADK.V to trade well above $2/share and the Company to eventually become the subject of buyout. The 'Stroke Predictor' application can predict that someone is going to have a stroke in the next two years and it will also tell you why. Pharma and the medical community will pay up for this technology and DIAGNOS Inc. will no longer resemble what it is today."
--- Market Equities Research Group
DIAGNOS Inc. (TSX-V: ADK) (OTCQB: DGNOF) (Frankfurt: 4D4) is a Canadian-based healthcare software technology company that pioneered 'Computer Assisted Retinal Analysis' (CARA), applying artificial intelligence to non-invasively test, identify, and classify patients at risk of vision loss (targeted at the diabetes market). Using the same retinal image from its CARA platform, DIAGNOS is now expanding its algorithmic technology into applications for the cardiovascular sector, a market that currently spends >US$500 Billion a year in drugs and services for cardiovascular and stroke issues. The first of its new revolutionary cardio applications is ready to hit the market, giving the Company a major competitive advantage in marketing that should see sales dramatically increase; DIAGNOS' hypertension application is set to come to market this 2020 as an add-on to its CARA. Even more important though, in terms of potential, is its 'Stroke Predictor' application which is scheduled for a major 1,000 patient validation test at three major hospitals in Canada and USA -- positive results on the Stroke Predictor will redefine DIAGNOS INC. and translate into extreme share price revaluation for ADK.V.
Fig. 1 Retinal image enhanced with DIAGNOS software, prepped for A.I. auto-detection of pathology & lesion classification. All images world-wide are sent via secure feed to its high security facility in Montreal for processing and quick turn-around.
Retinal imaging diagnostic technology is gaining popularity; doctors and specialists strongly endorse the technology as large numbers of people can be seen that otherwise would not be seen, governments like it as proactively stopping/minimizing debilitating health issues immensely saves money, and pharma (manufacturers and retailers) like it as they sell advanced medication for conditions identified. Now that DIAGNOS' original technology is proven, a handful of competitors have entered this market segment. Competition is healthy, it edifies matters, plus more people are talking about it. The whole telemedicine AI retinal imaging market is only going to get bigger, much bigger. DIAGNOS was a first-mover, ahead of the curve, however the Company bore the brunt of educating the industry on the technology's merits. It won't have barriers of skeptics to overcome this time as its new cardiovascular applications are marketed as an add-on to its now proven and accepted CARA. No retinal imaging competitor can offer anything in the cardiovascular realm, DIAGNOS is uniquely positioned in the market, the level of interest in its hypertension application as an add-on to what DIAGNOS is already offering is enormous and business is expected to explode.
Don't confuse the coming hypertension application with the even more impressive 'Stroke Predictor' application, they are not on par in terms of potential; if the planned trials for the Stroke Predictor, expected to begin this year and last for ~100 days, demonstrates the level of accuracy that DIAGNOS has encountered in its development stages, Market Equities Research Group has stated Pharma professionals have told its analyst "to look for shares of ADK.V to trade well above $2/share and the Company to eventually become the subject of buyout. The 'Stroke Predictor' application can predict that someone is going to have a stroke in the next two years and it will also tell you why. Pharma and the medical community will pay up for this technology and DIAGNOS Inc. will no longer resemble what it is today."
The original CARA platform, targeting vision loss, is expected to grow noticeably near-term
DIAGNOS pioneered the ability to cost effectively screen large numbers of diabetics with proprietary algorithms capable of automatic detection of pathology in retinal images and lesion classification to identify Retinopathy, AMD, and Glaucoma. Just prior to the world-wide COVID19 crisis, the Company was active in (and currently still is, as reopenings happen) in 16 countries in total for installations of its CARA technology platform, and has ~140 clinics in operation (primarily through partners footing capital and operational costs). Entering 2020 DIAGNOS no longer does pilot projects, it doesn't need to, the governments it worked with over the last four years (testing >400,000 patients in the process) realize there are enormous cost savings in managing their diabetic population proactively. It took 3 to 4 years for it to sink into their skulls, but past government clients realize now it pays to use DIAGNOS, it is logical to adopt the technology. In Canada, for example, wellness programs are just coming to bear right now; the first government in Canada that will issue a Request for Proposals (RFP) is the Quebec Government. DIAGNOS was scheduled to present to the Quebec committee, but COVID19 abated matters, Quebec will issue a bid this year, it was suppose to come out in June, it will probably come out in September now. Quebec has a population of ~8.4 million with ~800,000 diabetics, of which currently ~50% get no form of annual screening. Quebec's RFP will be to screen 1 million people over 5 years. If DIAGNOS gets just that (~$10/patient = $10M contract over 5 years) all its basic costs are paid for the next 5 years. Naturally, DIAGNOS is thinking much much bigger; there is a bias among other Provinces in Canada to adopt what Quebec is putting out its RFP for -- in fact, the Province of Ontario has people on the committee, and they are looking what Quebec is now wanting to do regarding screening diabetics. Same thing in Panama, Saudi Arabia, UAE, Mexico, ... everywhere DIAGNOS went before, the governments realize the effectiveness after DIAGNOS did pilot programs.
Additionally, major private sector prospects appeared poised to sign imminently
A listing of DIAGNOS' prospects entering 2020 are listed at the bottom of this article (sourced from a DIAGNOS presentation).
e.g. New Look Vision Group (a TSX listed retail eye care products and services company), they have ~400+ stores and growing, ~90% of their stores have retina imaging cameras, and they are interested in wanting to implement DIAGNOS' technology; New Look's President, and its VP of Marketing, echo its Chief Medical Officer's conclusion "no, we are not going to do this just for diabetics, we are going to do this for every customer that comes into the store that is over 40 years and older." If New Look follows through with the insight and revelations it was espousing just prior to COVID, such an announcement could increase DIAGNOS' book by 300K to 400K patient transactions a year.
New strategic partnership
On October 6, 2020 DIAGNOS announced Mexico's Largest Optical Retailer, with over 900 stores, to Use DIAGNOS' AI Technology to Detect Early Stage Blindness.
&
On June 3, 2020 DIAGNOS announced news "DIAGNOS Announces Signing of Strategic Partnership Agreement with Labtician Ophthalmics, Leading Global Ophthalmology Product and Equipment Supplier"; Labtician Ophthalmics Inc. is a leading Toronto-based surgical eye care products and equipment company with customers across Canada who need DIAGNOS' AI solution to monitor ocular health in diabetic patients.
&
On July 14, 2020 DIAGNOS Announces Signing of Service Agreement with the Colombian Telemedicine Centre; DIAGNOS' CARA will empower local technicians, automated results will be validated by the specialists in order to schedule and follow up only the patients that need to be treated.
DIAGNOS' Pipeline
Figure 2. (above) -- Pipeline: This timeline is from a pre-COVID19 presentation, now with COVID19 things will just get moved back a little, there should be no change to the sequence of what is happening. In mid-January DIAGNOS went into production with its upgraded ISO-2020 compliant retinal application for diabetes. No more pilot programs, and now the Company is getting into a hybrid business model that includes the original diabetic retinopathy PLUS cardiovascular. NOTE on 'algorithm filings' seen in the above pipeline timeline: CARA is divided into three different software; 1) the Picture Archiving System (PACS), which is the database, 2) the Telemedicine, and 3) the Algorithms. DIAGNOS has approval on the first two. The FDA was challenged manpower-wise in its ability to approve algos, however that has been resolved and DIAGNOS is expected to get its algorithms approved this summer-2020. DIAGNOS is working with Harvard University's Chairman of the diabetes hospital to make sure its algorithms will get through. Only one other software company has gone through FDA regarding retinal imaging, a software that gives a crude binary ('sick' or 'not sick') output that the market is not interested in. Compare that to DIAGNOS' highly innovative classification of R0, R1, R2, R3, R4 (R4 the most severe retinopathy requiring immediate attention by an ophthalmologist), & M1, M2 (for maculopathy).
DIAGNOS will have a distinct advantage with its hypertensive add-on
Clinics, private eye care establishments, hospitals, insurers, and government programs ... the wellness sector is poised to explode and DIAGNOS has a new distinct advantage to ride the wave. DIAGNOS will no longer be centered around diabetic's at risk of vision loss, it will increasingly, additionally, transition into the frontlines for cardio vascular triage. The initial hypertensive application will help secure its traditional retinal image processing business by offering the hypertension application for say only 20% (~$2) more, something no one else can offer.
How the Cardiovascular application works: DIAGNOS' cardiovascular retinal imaging looks at micro circulation, the small little vessels. There is a direct relationship between cardiovascular issues and the retina, DIAGNOS can see through the retina what your health is in terms of cardiovascular. This relationship has already been proven by the scientific medical community, DIAGNOS has mechanized with AI algorithms what the medical community has already identified and written about. DIAGNOS is working with some hospitals in the US and Canada to refine and validate its Stroke Predictor. Basically DIAGNOS' algos focus on two things; 1) the patterns of blood vessels, and 2) the how swollen (or not) they are...
Figure 3 (above) retinal images
Healthy individuals have veins and arteries in the eye that go out in a relatively straight pattern. If a person develops cardiovascular issues, pressures on the arteries cause changes that are visibly exaggerated within the retina; the arteries and veins no longer remain straight, they squiggle (exhibit tortuosity -- e.g. go left, then right, back and forth). Additionally, the person with issues will have arteries and veins that either get very swollen or they will shrink. Scientist know now that every single healthy human essentially has the same size arteries and veins in the retina; vessel size is homogeneous regardless of the size of the person, making it easy to measure/monitor. If you are prone to having a stroke, DIAGNOS' AI algorithms, which have been trained/refined over large datasets, are looking to identify trouble ahead of time in the eyes. The test can be performed on everyone.
"By 2035, cardiovascular diseases will be the most costly and prevalent killer (if left unchecked), and will place a crushing economic and health burden on the nation's financial and health care systems."

-- Source: Study conducted by RTI International for the American Heart Association

"By 2030, the total global cost of CVD is set to rise from approx. US$863 billion in 2010, to a staggering US$1,044 billion."

-- Source: World Heart Federation
DIAGNOS' hypertension application is ready to go to market now.
The Stroke Predictor and Cardio applications still require tests inside the hospital to rigorously validate the technology's predictive nature; DIAGNOS already has one key cardio institution in Montreal, it has another in Tennessee, and it is looking promising for Harvard coming onboard as a third site. DIAGNOS plans to test the technology on 1,000+ patients that come in for emergency care. Each hospital will have the camera and software in the emergency department, after the patient comes in via ambulance and is stabilized, possibly the next day or sooner, a picture of the patients retina will be taken and an algorithmic crosscheck will be performed of size and tortuosity of the vessels compared to normal. DIAGNOS is now refined in the technology to the point it can now go test in hospitals this summer-2020. In Tennessee alone it is possible DIAGNOS will get 10 to 15 fresh patients a day. In 100 days there could be 1000+ patients having provided validation data. This has all the earmarks of quickly developing into the biggest win in DIAGNOS' arsenal of software. Currently pharmaceutical manufacturers have medications that can effectively prevent a stroke, the DIAGNOS application will help matters dramatically.
Success in early detection of cardio vascular issues in such a non-invasive manner (for the patient) could quickly result in the DIAGNOS being a primary go-to service in a massive market place that currently spends >US$500 Billion a year in drugs and services for cardiovascular and stroke issues.
------ ------ ------ ------ ------ ------ ------ ------ ------
Recent Company news of significance
• October 6, 2020 "Mexico's Largest Optical Retailer to Use DIAGNOS' AI Technology to Detect Early Stage Blindness".
• September 28, 2020 "DIAGNOS Welcomes Mr. Vincent Duhamel and Mr. Robert J. Dunn to its Board of Directors".
• September 15, 2020 "DIAGNOS Announces a Multi-Year Contract with Chaparral Medical Group in California".
• September 8, 2020 "DIAGNOS Receives $2,000,000 Assistance from Quebec".
• August 26, 2020 "DIAGNOS Announces Annual General Meeting of Shareholders Date and Attendance Special Measures".
• July 14, 2020 "DIAGNOS Announces Signing of Service Agreement with the Colombian Telemedicine Centre".
• July 7, 2020 "DIAGNOS Announces that its Client in California, the Chaparral Medical Group of Clinics, is Reopening the Screening Services for Diabetic Retinopathy after the COVID-19 Shutdown".
• June 3, 2020 "DIAGNOS Announces Signing of Strategic Partnership Agreement with Labtician Ophthalmics, Leading Global Ophthalmology Product and Equipment Supplier".
• April 27, 2020 "DIAGNOS Provides Update on its CARA AI Application Participating in US White House Call to Action Data Analysis Program".
• March 25, 2020 "DIAGNOS Will Utilize its Artificial Intelligence Medical Platform in Response to "US White House"".
• March 9, 2020 "DIAGNOS Announces Closing of Oversubscribed $2.1 Million Private Placement".
• January 14, 2020 "DIAGNOS Successfully Completes ISO 13485 / MDSAP Surveillance Audit".
• January 7, 2020 "AI based clinical Eye Test for Diabetic Retinopathy Demonstrates Exceptional Performance at the CHUM, expands for an Additional Six Months".
• December 12, 2019 "DIAGNOS Announces a New Strategic Partnership Agreement in Costa Rica".
• December 10, 2019 "DIAGNOS Announces Collaborative Agreement in the North American Borderplex Region".
• November 28, 2019 "DIAGNOS Welcomes New Member to the BOD".
...Click here to view more news releases from source
------ ------ ------ ------ ------ ------ ------ ------ ------
A closer look at DIAGNOS' traditional business (targeting vision loss in diabetics) and how the company sees it growing
Diabetic retinopathy is silently blinding millions of people a year, the market size was valued at USD $8B in 2018 and is expected to witness 6.9% compounded annual growth rate from 2019 to 2025.
Figure 4. (above) - Client Test Referral Pathway
DIAGNOS sells an automated system to screen patients for eye diseases. The test is painless and quick, its one flash, the company takes the original image and enhances it to make it easier to read, and then uses an artificial intelligence image-recognition algorithm (electronically processed in a few seconds through its secure facilities in Montreal) to assess the patient's risk of over 20 eye diseases. If it detects a risk, the supervised machine learning algorithm separates diabetic retinopathy into 5 clinical diagnoses, the report refers the patient to a retinal specialist doctor, who prescribes the appropriate medication or treatment. Because the images can be sent over the internet, the doctor can be in a different physical location confirming the diagnostic.
DIAGNOS' algorithms are capable of
• Automatic classification by level of severity of DR & DME:
- State of the art Deep Learning technology.
- Best in class: sensitivity 94% and specificity 88%.
- Results in less then 2 seconds.
• Automatic detection of anomalies in retinal photographs.
• Validation of lesion with simplified grading sheet (AAO).

Figure 5 (above) Automated triage can help reduce healthcare labor requirements while increasing patient access to quality care and reducing healthcare expenditure.


The diseases targeted by the algorithm include the leading causes of blindness among adults, such as diabetic retinopathy and aged-muscular degeneration. There is an estimated ~500 million people with diabetes worldwide, of that number 0.1% of people with diabetes will lose their vision completely per year if not screened, that translates to 500,000 people per year that will go blind from a curable disease if they are not screened. These diseases are treatable with existing medicine but only if caught in the early stage. However, people at risk are not getting their eyes checked regularly, and therefore going blind unnecessarily, for the following reasons:

A). There is a shortage of retina specialist doctors. There are just ~1,800 retina specialists in the US versus nearly 50 million diabetics. Clinical guidelines suggest that every diabetic be screened for diabetic retinopathy once a year, obviously impractical for such a large number to be screened under traditional methods by so few specialists. In less developed countries the ratio of specialists to diabetic population is even worse compared to the US and Canada. By using an algorithm to screen patients, DIAGNOS ensures that only those at risk see a doctor, which relieves congestion in the healthcare system, while improving access to healthcare.

B). Seeing a doctor is expensive. Retina specialists can charge $300+ per visit, but DIAGNOS' software driven procedure charges out at a comparatively nominal cost per visit, in some cases this fee can be paid by a sponsor (such as the pharmaceutical company) rather than the patient.

C). Seeing a doctor is inconvenient. Retina specialists tend to be located in urban areas, and therefore may be inaccessible for rural populations. However, DIAGNOS' system could be installed in Primary Care Facilities, or stores providing low-cost healthcare services, further improving access to basic healthcare.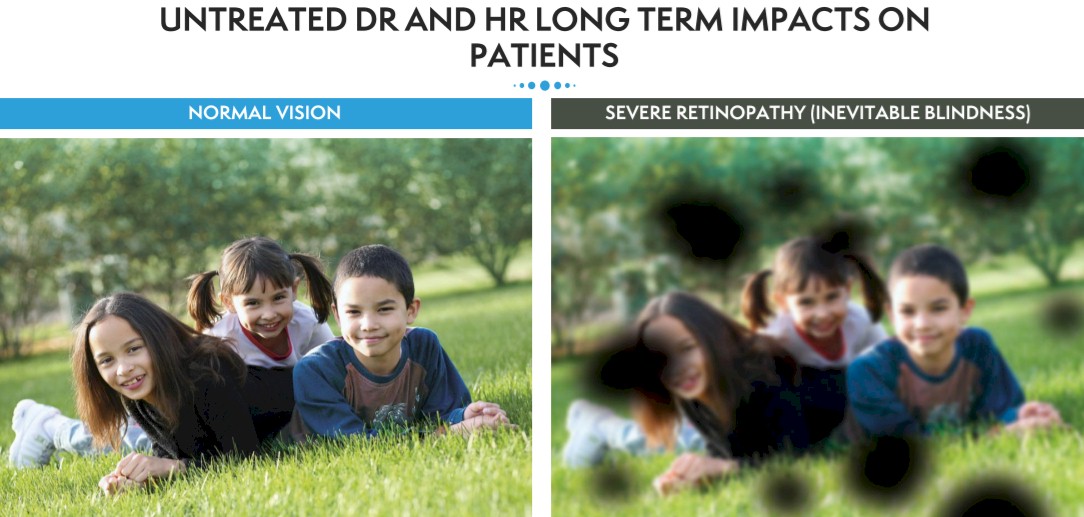 Figure 6. (above) - Comparison of normal vision vs. what someone with DR might see.
------ ------ ------ ------ ------ ------ ------ ------
Below is expanded insight on DIAGNOS Inc. and its technology.