Figure 1. (above) On the left is seen a typical fundus camera image being taken on a patient. On the right is seen a retinal image enhanced with DIAGNOS software, prepped for A.I. auto-detection of pathology & lesion classification. All images world-wide are sent via secure feed to its high security facility in Montreal for processing and quick turn-around. If it detects a risk, the supervised machine learning algorithm separates diabetic retinopathy into 5 clinical diagnoses, the report refers the patient to a retinal specialist doctor, who prescribes the appropriate medication or treatment. DIAGNOS has a SaaS model, it does not sell the software, it protects its proprietary code and database, the software resides in its servers, and everywhere the CARA platform solution is set up it functions as a service.
Revenue Generating Medical Applications - Product Pipeline
Figure 2. (Above) Product pipeline
CARA Platforms 1st large application -- Screening diabetic population to avoid blindness from DIABETIC RETINOPATHY: Status - deployed and in production. The test is via a flash from a standard off-the-shelf fundus camera (a specialized optical microscope with an attached camera), it is quick (only takes seconds), painless, noninvasive, and low cost. The retinal image is securely sent electronically for instant analysis by DIAGNOS' proprietary AI engine algorithms and sizeable database. CARA is Certified in ISO certification, and has multiple regulatory approvals. The CARA platform is advantageous over humans in terms of high-accuracy and consistency (unlike a human, software does not get tired). The technology was pioneered by DIAGNOS Inc. over the last decade, CARA technology is proven and its first large application targeting diabetics is in commercial production use now in 16 countries around the globe. The proprietary AI algo-driven database of DIAGNOS is made up of over 400,000 high-quality case study datasets, making its success unparalleled. Numerous people across the globe owe their eyesight today from having received a heads-up from DIAGNOS' CARA.
DIAGNOS greatly assists in managing the care of at-risk populations. Retinal imaging diagnostic technology is gaining popularity; doctors and specialists strongly endorse the technology as large numbers of people can be seen that otherwise would not be seen. Governments like it as proactively stopping/minimizing debilitating health issues immensely saves money, and pharma (manufacturers and retailers) like it as they sell advanced medication for conditions identified. DIAGNOS has first-mover advantage in its niche and has no serious competition at the moment, there are a handful of private firms connected to academic organizations dabbling in medical retinal analysis tech, and of those only two known private commercial operations are worth noting; however one has essentially shifted away to dermatology since Covid, and the other quite frankly charges too much (i.e. C$25/image compared to C$5 - $10 DIAGNOS charges) and is differently focused.
The share price of ADK.V is apt to rise as the reality of the magnitude developing for DIAGNOS' technology becomes more apparent to the market...
Noteworthy contracts currently in roll-out and related revenue potential:
New Look (Canada) 407 store (currently as of Nov-2021 10 stores have installs, and all 407 should be installed by end of 2022), DIAGNOS is rolling out to perform 10 tests/day/ store @CDN$5 revenue/test = CDN$6.5 Million/yr.

MAGRABI (a group of private hospitals in Saudi Arabia) 32 hospitals (the second CARA install has just occurred, more to come soon), 50 tests/day/site @CDN$5 /test = CDN$2.56 Million/yr.

20/20Now (USA) 65 optometry sites, (installs are starting back up now after experiencing Covid delay), 10 tests/day/site @USD$3/test = USD$624,000/yr.

Chaparral Medical Group (USA) 22 sites, has been a client for several years at one location and is expanding rollout now (installs on the remainder is back on now after experiencing Covid delay), 25 tests/day/site @USD$3/test = USD$528,000/yr.

Opticalia (Latin America) is a franchisee group of optometry stores with 920 franchises, have now installed CARA at 7 locations and aiming to do all 920, 10 tests/day/site, @Euro€3/test = €8.8 Million/yr.

Optica Central (Costa Rica) 65 optometry stores, 10 tests/day/site, @USD$3.50/test = USD$593,600/yr.
Established revenue sources looking to up their game: Novartis, Quebec Government (RFP 1M patients), Bangladesh Government, Grupo Devlyn with 900+ stores = ?TBD?/yr. ...
REVENUES ARE PROJECTED TO EXCEL: Based on established business, plus the pace of the current new roll-outs (above), we calculate DIAGNOS Inc. should report somewhere between CDN$10M and $20M in revenue in its next fiscal year, comfortably be cash flow positive, and easily grow in revenues every year thereafter based on diabetic retinopathy application alone.
Noteworthy new business prospects - this is a short-list of the most advanced in discussion that DIAGNOS feels closest to closing on:
Essilor International- MoU ~18,000 stores worldwide -- see related August 16, 2021 news release (negotiations underway now).

LMC Endocrinology- 18 diabetic clinics across Canada.

Quest Diagnostics US- One of the largest groups in US with over 300 clinics.

Saudi Government- Through ELM consulting that belongs to the King;500 clinics, 7 M diabetics (fact: ~35% of Saudi Arabia's population has diabetes).

UAE Government- 2M diabetics, Pilot scheduled this year subject to pandemic.

Panama Government- Pilot was done March 2020 to cover 1.4M diabetics.

Kaiser Permanente US- 2.5M diabetics

Mexico Government-7M diabetics, Pilot was done in 2019-2020 over 100,000 patients, just waiting for Covid to calm down before restarting.

Kaiser Permanente US- One of the largest HMO with 2,4000,000 diabetics, post Covid.
Florida Government US- 5.8 M diabetics.
FYIdoctors Canada- 256 stores, mainly in Western Canada.

Salud Digna Mexico- 1M diabetics.
Note: There are many more prospects than itemized above, the number of enquiries of late has dramatically increased -- there is now a shift within the eyecare industry whereby major players see the benefit of becoming more like "Point of Care" and "wellness centers", there is also increased interest from labs, and clinics. Additionally, besides patient wellbeing, the medical clinics and optometrists appear more keen to push a DIAGNOS test as they mark-up the cost, plus the client is essentially locked-in to returning for an annual test or follow-up to the same location to compare results for change in condition.
------ ------ ------ ------ ------ ------ ------ ------ ------
CARA Platforms 2nd large application -- Screening for HYPERTENSIVE RETINOPATHY: Status - in preliminary commercialization. If patients are suffering from hypertension or taking blood pressure medication, using the same retinal image from its CARA platform DIAGNOS can proactively see damage being done to the retina -- a hypertensive patient can develop hypertensive retinopathy, which can lead to vision loss. DIAGNOS can measure retinal vascular tortuosity; your blood vessels are supposed to be nice and straight, as soon as your blood pressure goes higher it puts a lot of pressure on the arteries and veins -- the smaller the blood vessels the quicker the change, so that is why the eyes are best.

Figure 3. (above) CARA (Computer Assisted Retinal Analysis) Artery Vein (AV) Ratio analysis in action and retinal images -- DIAGNOS' cardiovascular retinal imaging looks at micro circulation, the small little vessels. There is a direct relationship between cardiovascular issues and the retina. DIAGNOS' algos focus on the artery-to-vein ratio (AVR), classifying the patterns of blood vessels, and how swollen (or not) they are.
DIAGNOS' new cardiovascular applications will be marketed as an add-on to its now proven and accepted CARA. No retinal imaging competitor can offer anything in the cardiovascular realm, DIAGNOS is uniquely positioned in the market, the level of interest in its hypertension application as an add-on to what DIAGNOS is already offering is enormous.
------ ------ ------ ------ ------ ------ ------ ------ ------
CARA Platforms 3rd large application -- Screening for PROBABILITY OF STROKE: Status - To begin clinical trials with CommonSpirit Health Research Institute starting December 6, 2021. Having a stroke can lead to life-debilitating paralysis. DIAGNOS is starting a clinical trial in the second largest hospital group in the US (CommonSpirits; which has ~137 hospitals and >1,000 clinics, in 21 states) to prove DIAGNOS can predict if an individual will have a stroke using the same fundus camera image of the back of the eye. DIAGNOS is doing a clinical trial study in collaboration with them as they see the CARA platform as an important tool to reduce costs long-term and provide rapid feedback on the effectiveness of individual patient's medication. If the planned trials for the Stroke Predictor demonstrates the level of accuracy that DIAGNOS has encountered in its development stages, Market Equities Research Group has stated Pharma professionals have told its analyst "...look for shares of ADK.V to trade well above $5/share and the Company to eventually become the subject of buyout. The 'Stroke Predictor' application can state the probability of someone having a stroke in the next two years and it will also tell you why. Success in early detection of cardio vascular issues in such a non-invasive manner for the patient could quickly result in the DIAGNOS CARA platform being a go-to service in a massive market place that currently spends >US$500 Billion a year in drugs and services for cardiovascular and stroke issues. DIAGNOS' technology can also quickly reveal if a patient's medication is working by showing changes in condition (progression or regression). Pharma and the medical community will pay up for this technology and DIAGNOS Inc. will no longer resemble what it is today."
"By 2035, cardiovascular diseases will be the most costly and prevalent killer (if left unchecked), and will place a crushing economic and health burden on the nation's financial and health care systems."

-- Source: Study conducted by RTI International for the American Heart Association

"By 2030, the total global cost of CVD is set to rise from approx. US$863 billion in 2010, to a staggering US$1,044 billion."

-- Source: World Heart Federation
------ ------ ------ ------ ------ ------ ------ ------ ------
Recent Company news of significance
• March 29, 2022 "DIAGNOS Announces Closing of Private Placement and New Marketing Director".
• March 15, 2022 "CAN Health Network and Quebec-Based DIAGNOS Announce Life-Changing Diabetic Retinopathy Screening Program Partnership".
• March 1, 2022 "DIAGNOS Announces Closing of Private Placement".
• February 10, 2022 "DIAGNOS Successfully Completes ISO / MDSAP Audit".
• January 26, 2022 "DIAGNOS Provides Corporate Update for 2021 and Outlook for 2022".
• December 15, 2021 "DIAGNOS will be Attending in San Francisco during the J.P. Morgan Health Care Conference Week to be held from January 10th to 13th, 2022".
• November 23, 2021 "DIAGNOS will start a clinical trial study in the USA commencing December 6th, 2021 for early detection and prevention of Stroke using CARA-STROKE".
• October 28, 2021 "DIAGNOS Delivers World Class Results in the MICCAI2021 Contest: GAMMA".
• September 16, 2021 "DIAGNOS Announces a Multi-Year Contract with Juarez Health & Medical Tourism Cluster".
• September 14, 2021 "DIAGNOS Announces a 3-Year Contract with Cielo Vista Eye Clinic in Mexico".
• September 10, 2021 "DIAGNOS Announces Voting Results of Annual Meeting of Shareholders".
• September 2, 2021 "DIAGNOS Announces a Three-Year Contract Renewal with Optina Diagnostics Providing a Telemedicine Platform to Support their Early Detection of Alzheimer's Disease Test".
• August 16, 2021 "DIAGNOS signs Memorandum of Understanding with Essilor International".
• July 28, 2021 "DIAGNOS Announces a Pilot with Opticalia in Spain".
• July 22, 2021 "DIAGNOS Announces the Official Opening of the AI Assisted Screening Clinic at Magrabi Hospital with the Presence of the Undersecretary of the Ministry of Health of Saudi Arabia".
• July 20, 2021 "DIAGNOS initiates a clinical trial study in the USA for early detection and prevention of Stroke using its new application CARA-STROKE".
• June 15, 2021 "DIAGNOS Announces a Pilot with Hospital Oftalmolσgico Buena Vista Sinaloa".
• June 9, 2021 "IRIS Teams up with DIAGNOS Inc (DGNOF) in a Multi-Year Agreement to Implement Artificial Intelligence Technology with Support From the INVEST-AI Program".
• April 6, 2021 "DIAGNOS (OTCMKTS:DGNOF) Enters into Exclusive Distribution Agreement to Access Massive Global Healthcare Market in DACH Countries and Central Europe of Over 140 Million People".
• March 9, 2021 "DIAGNOS, following a successful Proof-of-Concept (POC) pilot study, is finalising its new application CARA-STROKE to address Stroke prevention and management, a market estimated at $36 Billion".
• March 4, 2021 "DIAGNOS and the third largest optical retailer in Costa Rica Piloting CARA and its Telemedicine technology".
• February 26, 2021 "DIAGNOS Announces Exercise of Stock Warrants and Provides a Cash Update".
• February 24, 2021 "DIAGNOS Announces its Exclusive Strategic Partnership Agreement with Labtician Ophthalmics, a Leader in Canadian and International Eyecare Markets to Address Growing Needs in the Monitoring of Diabetic and Hypertensive Patients".
• February 2, 2021 "DIAGNOS Announces Further Deployment of its AI based CARA Technology in Saudi Arabia".
• January 28, 2021 "DIAGNOS announces the re-opening of its medical testing in Panama".
• January 21, 2021 "DIAGNOS Successfully Completes ISO 13485 / MDSAP Audit".
• January 19, 2021 "DIAGNOS announces a 3-year partnership agreement with the University of Montreal Hospital Centre (CHUM) on the use of Artificial Intelligence".
• January 14, 2021 "DIAGNOS Announces Partnership in Saudi Arabia with Magrabi Hospitals and Centers to Screen Diabetic Patients".
...Click here to view more news releases from source
------ ------ ------ ------ ------ ------ ------ ------ ------
A closer look at DIAGNOS' traditional business (targeting vision loss in diabetics) and how the company sees it growing
Diabetic retinopathy is silently blinding millions of people a year, the market size was valued at USD $8B in 2018 and is expected to witness 6.9% compounded annual growth rate from 2019 to 2025.
Figure 4. (above) - Client Test Referral Pathway -- Because the images can be sent over the internet, the doctor can be in a different physical location confirming the diagnosis.
DIAGNOS' algorithms are capable of
• Automatic classification by level of severity of DR & DME:
- State of the art Deep Learning technology.
- Best in class: sensitivity 94% and specificity 88%.
- Results in less then 2 seconds.
• Automatic detection of anomalies in retinal photographs.
• Validation of lesion with simplified grading sheet (AAO).

Figure 5 (above) Automated triage can help reduce healthcare labor requirements while increasing patient access to quality care and reducing healthcare expenditure.

The diseases targeted by the algorithm include the leading causes of blindness among adults, such as diabetic retinopathy and aged-muscular degeneration. There is an estimated ~500 million people with diabetes worldwide, of that number 0.1% of people with diabetes will lose their vision completely per year if not screened, that translates to 500,000 people per year that will go blind from a curable disease if they are not screened. These diseases are treatable with existing medicine but only if caught in the early stage. However, people at risk are not getting their eyes checked regularly, and therefore going blind unnecessarily, for the following reasons:

A). There is a shortage of retina specialist doctors. There are less than 2000 retina specialists in the US versus nearly 50 million diabetics. Clinical guidelines suggest that every diabetic be screened for diabetic retinopathy once a year, obviously impractical for such a large number to be screened under traditional methods by so few specialists. In less developed countries the ratio of specialists to diabetic population is even worse compared to the US and Canada. By using an algorithm to screen patients, DIAGNOS ensures that only those at risk see a doctor, which relieves congestion in the healthcare system, while improving access to healthcare.

B). Seeing a doctor is expensive. Retina specialists can charge $300+ per visit, but DIAGNOS' software driven procedure charges out at a comparatively nominal cost per visit, in some cases this fee can be paid by a sponsor (such as the pharmaceutical company) rather than the patient.

C). Seeing a doctor is inconvenient. Retina specialists tend to be located in urban areas, and therefore may be inaccessible for rural populations. However, DIAGNOS' system could be installed in Primary Care Facilities, or stores providing low-cost healthcare services, further improving access to basic healthcare.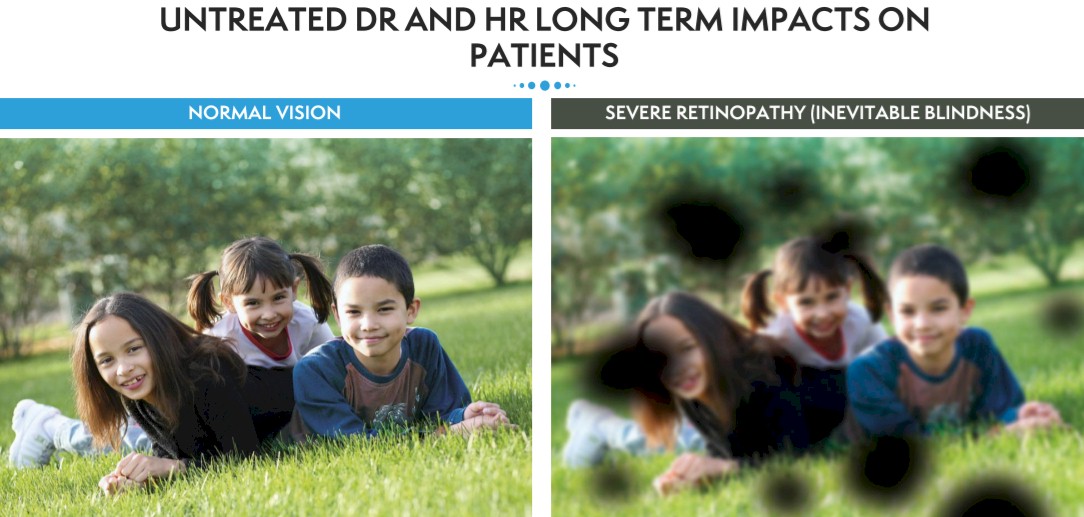 Figure 6. (above) - Comparison of normal vision vs. what someone with DR might see.
------ ------ ------ ------ ------ ------ ------ ------
Below is expanded insight on DIAGNOS Inc. and its technology.